Dr. Richard Smith started his talk by indicating that his interest in learning autonomy, and how he is going to link it to the theme of the conference. He refers to the theme (Researching Teachers: In-Service Training a
nd after..) as ambiguous since it may be interpreted as research on teachers or by teachers:
Research on / into teachers ['Researching teachers' = 'Academics doing research into teachers' beliefs, attitudes, practices etc.' ['teachers' as object]
OR
Research by teachers ['Researching teachers' = 'Teachers who are doing research as they teach ['teachers' as subject / agent]
Probably the second will be the main concern of his talk.
To start with, Richard referred to Holec's (1979) definition of learner au
tonomy. "The ability to take charge of one's own learning…. To take charge of one's own learning is to have , and to hold, the responsibility for all the decisions cncerning all aspects of this learning."
Holec developed the concept of autonomy for adult learners in a practical way. : The qillingness / ability / opportunity to self-direct one's own learning [in collaboration with others] said Dr. Smith.
Following that, he explained how teachers could research and clarified the difference between academic research. Research by teachers make can be about their concerns in their practical environment that can be more relevant and meaningful for their colleagues. The research by academics may not be as accessible or relevant. This can be considered as beyond their in- service training, again referring to the theme of the symposium.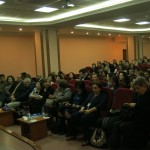 Richard then  proposed: Teacher educators should also exercise their own teacher-learner autonomy, and encourage themselves/ one another to research their own teacher education practice.
Teachers should be allowed, indeed enabled, to do researhes Richard said. He also mentioned the authors who worked on Action Research that tecahers could conduct such as Edge, J. and Wallace, M.
Smith listed a few academics who downbeat assessmnets such as Dornyei(2008), Borg(2010), Ellis(2010). The notion of teacher research seems under attack for
(i) its scarcity in practice;
(ii) being the brainchild of academics; and
(iii) the low quality of research produced.
There is a debate on this in IATEFL research SIG website and he invited the participants to join the discussions at IATEFL RESEARCH SIG .
Richard added that he is an optimist and teachers can do researches, and there are examples of these in the world. He showed the audience  two published books that were purely consisted of teacher researches. He also shared a video that could be watched for tecahers doing action research.
So how could teachers be encouraged/ supported to research? For example, teachers do not need to report their research in an academic format which maybe a reason why teachers are not so willing to do researches. They can present their results in talks. We can
Increase willingness
Enhance abilities- e.g. Through a basic teacher-researcher toolkit
Develop opportunities
Richard proposes to marry IATEFL TTEd SIG and Research SIG to work on the encouragement  of teachers do action research.
Burcu Tezcan Unal mentioned the action research done in her institution which was part of the institutional professional development options, and Birsen mentioned the possibility of collection of questions to be shared by the practicing teachers and answers to be sought after by researches.
Richard finished his talk by saying that more details would be in the afternoon workshop.